Houlton invites 30 schools from all over the country to #BeWorldClass
17 Mar 2022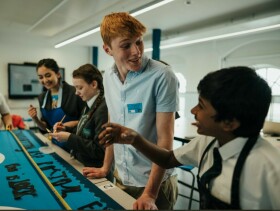 175 students head to Houlton School in Rugby in a bid to achieve WCSQM reaccreditation for their school.

On 17th March 2022 Houlton School, a brand new free school in Rugby, hosted the World Class Schools Quality Mark (WCSQM) Assessment Centre, welcoming 175 students from 30 primary and secondary schools applying for WCSQM re-accreditation.
 The assessment centre event marked a return to in-person assessment events for the education charity that works to accredit non-selective schools from around the UK as World Class. In order to achieve World Class Quality Mark accreditation the school's students must demonstrate World Class characteristics, using the WCSQM framework of characteristics as a benchmark of the skills and competencies young people need to thrive in an ever changing global economy.
This year's assessment centre project that students were given two weeks to prepare for, and a day to complete, was to create innovative, attractive and environmentally friendly outdoor and indoor spaces,  incorporating the Houlton values. Over 11 project teams, students worked together to design gardens, eco-friendly seating, murals, sculptures and tree hangings, supported by Houlton's staff and partners as industry experts, with advice from a focus group of Houlton's Year 7 students – the first ever cohort of students at the school.
"We are so excited to be working with World Class Schools. Our projects centre around our three core pillars of innovation, aspiration and excellence, and we have seen some fantastic project outcomes. This is a really invaluable experience for us as Houlton School works towards our own World Class accreditation application, and an inspiring opportunity for our pupils who have really enjoyed being part of the day." Michael McCulley, Houlton School Principal.
This challenging real-life project gave students a unique opportunity to not only develop and demonstrate their World Class characteristics, but to enjoy a much-needed return to the social development, work experience and collaboration opportunities students have missed out on over the past two years.
"It's so exciting for us to be able to bring students back together, to see them actively collaborating and forging a team bond across schools and year groups. And what better setting for our biggest ever assessment centre event than the impressive, brand new Houlton School, where modern, high tech sustainable architecture  combines with grade II listed historic buildings on Rugby Radio station's iconic site; an inspirational setting where students can bring their creative ideas to life." Miranda Perry, WCSQM Director
Accredited World Class schools are invited to apply for re-accreditation biennially to prove their school is consistently World Class. The assessment centre is one of a two-part re-accreditation process for the 30 participating schools, the second part of which involves students using the WCSQM online app to demonstrate their World Class characteristics across a number of framework areas including learning, leadership, the workplace and community. Once completed, students have access to a downloadable portfolio of their World Class skills and competencies they can use to inform, for example,  further education and employment applications, Duke of Edinburgh skills assessments and LinkedIn profiles.
Re-accrediting schools will receive the outcome of their assessment in the summer term, and if successful will be formally awarded re-accreditation at the WCSQM Symposium on 6th July 2022.