Open Evening
Our Open Evening for September 2024 entry will be held on Wednesday 13 September 2023 from 6-8.30pm. No booking is necessary.
Our Principal and Pupils' Address to Prospective Parents for September 2023 entry is available below. An updated video for Y7 September 2024 entry will be available from 12 September 2023 and available to view within the Power Hall Auditorium on Open Evening itself.
Joining our Houlton family
You can access a copy of our School Prospectus here.
Our Open Evening for September 2024 entry is on Wednesday 13 September 2023 from 6.00-8.30pm. Our Principal's address for prospective families will be released the evening before (Tuesday 12 September) on our social media and on this website. It will also play on loop in our auditorium so that families may visit throughout the evening. The national deadline for Year 7 applications is 31 October 2023, so this will give plenty of time for families to make a decision about the right secondary school for their child following their visit.
Choosing the right secondary school for your child is one of the most important decisions you'll make as a parent – we know that and we're here to support you. What will suit one child will be very different from what may support another, so having an understanding of the school's ethos is essential.
Houlton School occupies the Grade II listed Rugby Radio Station building, which was the hub of global communications throughout the 20th century and surrounded by the iconic 820ft radio masts.
At Houlton School your child can expect to receive a world class education delivered by exceptional teachers within brand new, £39m state-of-the-art facilities. Houlton School has already secured a number of markers of its high quality provision, including the prestigious World Class Schools Quality mark.
We have six forms in each year group of 180. That means we're large enough to be able to offer a broad and balanced curriculum, whilst not being so large that your child may become lost in the crowd. Our teachers pride themselves on the relationships and rapport they build with children as soon as they join us for their seven-year journey. From day one, your child isn't just starting a new school, they're joining the Houlton family.
Innovation and excellence are at the heart of our mission: transforming children's lives regardless of their differing starting points. Traditional values underpin our approach to caring for your child, creating a framework that encourages well-mannered, self-disciplined young people who go on to success in whatever future they envisage for themselves. Whether your child aspires to study medicine at Oxbridge, be the next England rugby player or the top sound engineer at Radio 1, we'll be with them every step of the way. Teaching is responsive to pupils' needs, so they'll be stretched and challenged to achieve progress that places their achievements among that of the best in the country.
Traditional values mean we expect pupils to wear their uniform correctly, and with pride. The business-dress expectation in the sixth form is direct preparation for the world of work ahead for our post-16 young adults. Understanding the conventions of social situations, having good manners, and being kind are all key elements of being a member of the Houlton family – and essential to pupils' happiness here.
State of the Art Facilities
In terms of facilities, we are in the enviable position of being able to offer state-of-the-art, purpose-built specialist facilities, combined with our Grade II listed heritage buildings, which have been expertly repurposed by our award-winning architects. All curriculum areas will enjoy brand new facilities, including:
Transmission Hall.

 

This is the first and largest of our architect-transformed Grade II listed buildings. It boasts multiple visual and performing arts studios, the music department and practice rooms, and our Learning Resources Centre. Standing proudly within the newly created penthouse suite atop the main building is our Sixth Form Centre. Students will also be able to access our very own professional radio station, honouring the heritage of our buildings and ensuring the legacy of our site as a broadcast communications hub continues long into the future at Houlton. Qualifications in broadcast and new media will be available to harness the potential of these unique facilities.
Power Hall.

 

The second of our listed buildings is home to our grand assembly and performance auditorium, and the Refectory, which will provide a range of delicious meals and snacks. There are also additional, IT-rich study spaces for independent learning.
The Science, Technology, Mathematics and Engineering (STEM) building. This purpose-built space houses our Science Laboratories, Food and Nutrition hub, Design Technology suite, Graphic Products, Computing suites and more.
The Humanities Building.

 

Also purpose-built, this will be home to many of our core, academic subjects including English, Geography, History, Modern Languages, Religious Studies and more.
The Sports Centre.

 

We are proud to offer a professional standard, Sports England compliant sports building, complemented by extensive outdoor spaces and all weather pitch, catering for a broad range of fitness pursuits.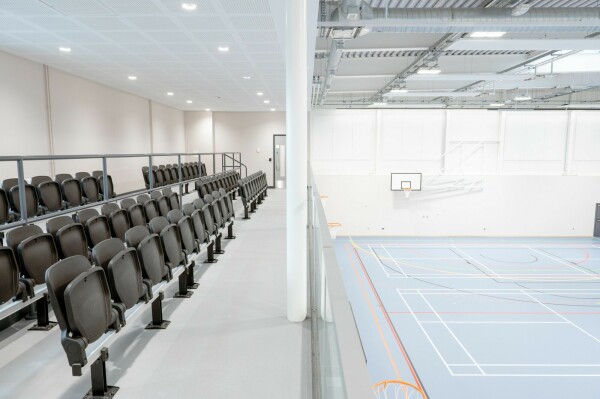 Pupils should be on campus by 8.30am and will finish at 3.10pm each day. Pupils will have five lessons/day organised over a two week timetable rotation. More information about our Curriculum can be found on our website here.
You can find our final admissions policy on this page.
You can learn more about our historic site on the Rugby Radio Station heritage site here.