Principal Designate is announced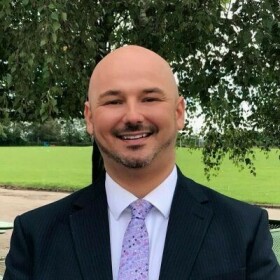 Mr Michael McCulley has been appointed as Houlton School's inaugural Principal.
Mr McCulley, who has a wealth of experience working in Good and Outstanding schools, has taken up post and is looking forward to working in an area that has a real personal importance to him.
Mr McCulley, Principal Designate, said: "I grew up not too far away from Rugby in nearby Leamington Spa, so understand well what a special place to work and live Warwickshire is.
"To be the founding Principal of a school so resolutely focused on serving its immediate community was an opportunity too enticing to pass up. I feel incredibly privileged to have been entrusted with leading Houlton and welcoming Rugby's children to our brand new Houlton family."
Mr McCulley's career started at all all-through 5-18 school in Scotland, and  more recently he has worked to build capacity within schools in South Warwickshire and Worcestershire. He has advised the Department for Education on the development of the National Curriculum and General Qualifications for England and also has delivered National Professional Qualifications for aspiring senior leaders in schools.
Houlton School will be part of Transforming Lives Educational Trust (TLET), which already runs three highly successful schools in Rugby.
James Higham, CEO of TLET, said: "As you can imagine, for a school that has such huge potential we were inundated with applications for the post of Principal Designate.
"Michael stood out from the start. Not only does he have the expertise and experience to make our vision for this school a reality, but he also cares deeply about creating a culture where every child feels supported and cared for.
"That is what makes his appointment so exciting."
The 11-18 academy will occupy the historic, Grade II listed former Rugby Radio Station site and is set to open to its first Year 7 pupils in September 2021. The new school boasts unrivalled, specialist facilities, including: a Sports England compliant Centre for Sports, an expansive green-field campus, brand new visual and performing arts studios and a purpose-built Science, Technology, Engineering and Mathematics (STEM) facility. The trust has already received a great deal of interest from families and teachers interested in joining the school can expect a state-of-the-art experience when joining Houlton.
Mr McCulley added: "Houlton will be a school that exploits every opportunity to be innovative in its curriculum. We will work together in relentless in pursuit of excellence.
"This commitment to challenging received wisdoms will be underpinned by traditional values and a commitment towards instilling in our young people the importance of positive relationships and a determined work ethic to a happy and fulfilling life."
In addition to its rigorous, academic curriculum for excellence, Houlton School will honour its heritage by offering Broadcast and New Media routes to its students, and will even have its own radio broadcast facilities, continuing the buildings' legacy and global heritage as a centre of excellence for communication.
Applications for places at the new school are open now and the form is available at www.houltonschool.org.uk/admissions. Completed forms need to be received ahead of the national deadline.