All systems go: Houlton School gets the green light for opening
13 Jan 2021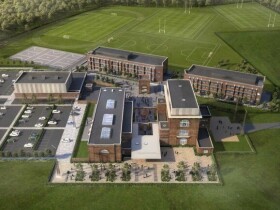 After years of planning and preparation, Houlton School has been given the all clear to open by the Secretary of State for Education.
Located in the Grade II listed former Rugby Radio Station, the 11-18 academy is positioned in the heart of Urban&Civic's new residential development at Houlton. Despite COVID challenges, work on the site has been proceeding at pace over the last 12 months, and plans for the exciting curriculum that will be on offer have also been developed. The school's recent Section 10 consultation, which captures the community's view on all the plans, was also recently submitted to the Department for Education.
As a result, the Secretary of State for Education has formally signed the school's funding agreement with the Transforming Lives Educational Trust, the Trust who has developed plans for the school, which is one of the final milestones before the school welcomes the first pupils in September.
Michael McCulley, Principal Designate at Houlton School, said: "Our thanks go out to everyone across the community who took the time to participate in our consultation. It was wonderful to hear the great anticipation and excitement that there is for Houlton School.
"It has certainly been a busy few months for us here at Houlton, from building progress to staff recruitment and everything in between, it is fantastic to see our plans coming to fruition and to receive such overwhelming support from members of our community."
With building works on the school progressing well and on programme, the campus, which is being delivered through a partnership between the developers at Houlton, Urban&Civic and the Department for Education, will see the Grade II listed buildings transformed to become the heart of the school. The site will also boast purpose-built Science, Technology, Engineering and Mathematics (STEM) and Humanities buildings, as well as a Sport England Compliant Sports Centre that will be available for community use. There will also be a professional grade radio studio that will broadcast from the site, honouring the campus' heritage as a global centre for communication.
The school has also appointed their first Vice Principal, Chloe Buckenham.  Miss Buckenham, a graduate of Law from the University of Warwick, went on to the prestigious Inns of Court School of Law where she qualified as a Barrister. After making the decision to transition into teaching in 2006, Chloe qualified with the University of Cambridge, realising her desire to effect change in education and to be a catalyst for young people to realise their true potential.
Miss Buckenham, Vice Principal Designate, said: "I feel incredibly privileged to have been appointed as the Vice Principal at Houlton School and to be working with an inspirational team on such a unique and exciting project. Houlton is going to be a centre of educational excellence, providing the most amazing opportunities for pupils and staff alike. I cannot wait to meet our first cohort of Year 7 pupils in September and to start our journey together."